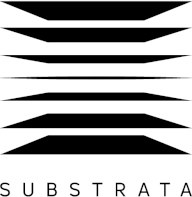 Substrata is a multi-user cyberspace/metaverse. Chat with other users or explore objects and places that other users have created.
You can create a free user account and add objects to the world as well!
Land parcels in Substrata are for sale, and can be minted as Ethereum NFTs.
Substrata is early in development, please expect rough edges!
Read about our goals and plans for Substrata
Read general question and answers about Substrata
Downloads
To explore Substrata you will need to install the free client software for your platform:
Windows - Substrata_v0.98.4_Setup.exe
MacOS - Substrata_v0.98.4.pkg
Linux - Substrata_v0.98.4.tar.gz
Buy a land parcel
Sorry, there are no parcels for sale here right now. Please check back later!
View all parcels for sale
Community


@SubstrataVr
Screenshots and Videos
Scripting
Read about object scripting in Substrata.
CryptoVoxels
We are currently embedding the CryptoVoxels world in Substrata, for testing and fun purposes!
To explore the CryptoVoxels world, just install and run Substrata, and then select from the menu bar:
Go > Go to CryptoVoxels World
---